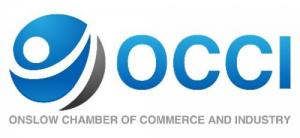 In just three years, we [the Onslow Chamber of Commerce and Industry (OCCI)] have grown to include a membership of over 130 and positioned ourselves as a highly credible organisation that is having a significantly positive impact on the business sector and general community of Onslow.
Driven by the needs of our members, and led by an elected CEO, we continue to offer all businesses across every sector invaluable support and guidance. By becoming (or remaining) a member or sponsor of the OCCI, you will have access to a range of services and opportunities including business promotion, building capacity, connection through networking and industry briefings as being well informed.
In addition to supporting individual businesses, the OCCI is also pro-active in relation to improving the economic, social, cultural and environmental sustainability of the region through projects such as the Onslow Investment Guide and the Business and Visitor Stimulation Project. In supporting and promoting local business, the OCCI is aware of the big picture – in particular the long term sustainability of Onslow as a thriving community.
http://www.onslowcci.com.au/