About us
The Regional Chambers of Commerce and Industry of WA (RCCIWA) is a not-for-profit member driven organisation made up of individual regional Chambers and Business Associations all over this state. With 41 regional Chambers and Business Associations as members representing over 7000 member businesses, RCCIWA ensures that business communities in regional WA are connected to each other and are being heard by those who make the decisions.
Our role is to promote, develop and support all regional Chambers and Business Associations, provide a voice for business in regional WA and act as a conduit for information and advocacy.
We recognise that positive collaboration is the best way to effect positive change and with that in mind we have developed strong relationships and alliances with key decision makers of this state and a broad cross-section of stakeholders. In particular we work very closely with the Small Business Development Corporation, CCIWA, many Government agencies and departments and several industry associations.
Formed in 1999 under the leadership and passion of our founding President Mr Rolf Stene, the RCCIWA quickly became a very strong network of regional business leaders, which it continues to be today. With the aim of ensuring that the businesses in the "Bush" had a voice in the City, the RCCIWA has established a very credible line of communication with many key decision makers of this state and the nation, underpinned by the genuinely invested and far-reaching network of our members.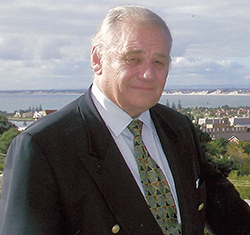 Rolf Stene
Founding President of RCCIWA
Honorary Life Member of RCCIWA
Rolf is and has been a stalwart supporter of south-west commerce and industry for most of his life.
He has served as the president of the Regional Chambers of Commerce of Western Australia, the South West Chambers of Commerce and Industry and chairman of the Bunbury Chamber of Commerce and Industries Trade Industry and Energy Committee.
Rolf has also served in numerous business and community organisations including the Pastoral and Graziers Association, Bicentennial Committee for Bunbury, Bunbury Port Authority, Rotary and Leschenault Business Enterprise Centre.
He was awarded the Order of Australia Companion (AC) in the General Division for his contribution to Collie, Bunbury and the South West in 2002's Queen's Birthday honours.
Rolf is the founding President of RCCIWA. He formed the organisation in 1999 and still actively contributes to this day.