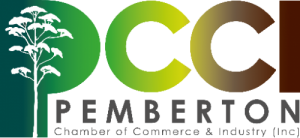 Being a member of the PCCI means you have the opportunity to attend networking events, meet and get to know your fellow business community, receive relevant and practical information, be a part of a body of influence, learn and develop and also be part of an organisation that is there for you.
The Chamber is the voice of the business community. We meet with politicians from all tiers of government and are building a strong professional relationship with them, representing our members on issues that will impact their businesses. We are the key contact for all who visit the town and are genuinely involved in the broader community.
We are on your side and are working hard to make it easier for you to do business. Being a member also means you are part of a broad state-wide network that is also on your side.
https://www.facebook.com/PembertonChamberWesternAustralia/